INTRODUCTION
Almost everyone has used a trigger sprayer for household or garden use at some point in their lives. The use of trigger sprayers for various purposes has been around for many years. Due to changes in needs, trigger sprayers have experienced several modifications in their appearances, sizes, and shapes. Currently, trigger sprayers serve a variety of purposes. It is actually created by keeping three things in mind: the convenience of the user, the quality of the product, and its intended purpose. All types of sprayers have the same efficiency and mechanism for distributing liquid evenly.
The trigger sprayer can be used in a variety of ways, so you can even customize it to meet your needs. We will discuss the about trigger sprayer, its applications and uses, design, patterns, components and its work in this article.
APPLICATIONS
Chemical, household and industrial products often use trigger spray bottles. Some glass cleaners, toilet cleaning products, sink cleaners, and lawn care products are available in trigger spray bottles, as are many home cleaning products. The trigger spray is used in various liquid applications. Cleaning products are the most popular. Among these are sanitizing agents, soaps, and cleaning foams. Besides using the trigger spray pump to apply hair products like gels and sprays, you can also use the pump to apply strong cleaning agents, like bleach and upholstery cleaner. Additionally, they are used in pain relief products by the medical industry. It is likely that trigger sprays are used for some kind of solution in almost every industry sector.  
SPRAY DESIGN
Trigger sprayers are suitable for a wide variety of products such as cleaning solutions, chemicals for gardening, room sprayers, spritzers, and lighter body and hair care products. Unlike other dispensers, they are designed to disburse a greater amount of product on a larger surface. There are various body shapes and colours that make trigger sprayers different. 
Closure Options –  Screw closures vary in size so trigger sprayers can fit various bottlenecks. 
Nozzle Options – Trigger spray nozzle varies in design which decides the output of the sprayer i.e. stream, spray, or mist. Some nozzles also come with a child safety feature which blocks the trigger from moving and hence liquid from dispensing. 
Trigger Options – Depending on their length and design, trigger options vary. The trigger has been designed to provide more grip to fingers so that the user can use it for longer periods of time.
SPRAY PATTERNS
Generally, trigger sprayers deliver an effective mist or spray for all-purpose applications. This type of storage unit contains chemicals, cosmetics, and other products available for commercial, residential and personal use. Trigger spray bottles are convenient and easy to use for dispensing liquids by squirting, misting, or spraying. The sprays sometimes come with an adjustable stream or even an atomizer so that they can disperse the contents in an atomized manner. In general, trigger sprays work through the use of siphons that draw liquid upwards and dispense it through the nozzle.
The spray patterns also have an impact on the amount of liquid that is dispensed from the trigger sprayer. Sprayers are chosen for their dosage, which refers to the amount of product that is dispensed with each spray. Typically, the dosage ranges between 0.22 ml and 1.5 ml. When dispensing products requiring a bigger spread (the amount of product covering the surface area), higher dosages are recommended.
The below videos shows different types of patterns produced by the trigger sprayer.
Spray – Sprayer of this type, spray patterns dispense products in a cone-shaped pattern from the nozzle.
Stream – The stream spray directs the product from a point to a narrow area, dispensing few droplets of product. For products requiring high concentrations in a small space, this spray pattern is ideal.
Mist – A mist spray pattern typically contains many small droplets and is ideal for small dosages of products. 
TRIGGER SPRAY COMPONENTS
 From the diagram, it is easy to see that there are 14 components in the trigger sprayer system. There are many possible materials with which to make these components, depending on the requirements of your product. To ensure you choose the best system for your product, make sure to consider each of these components.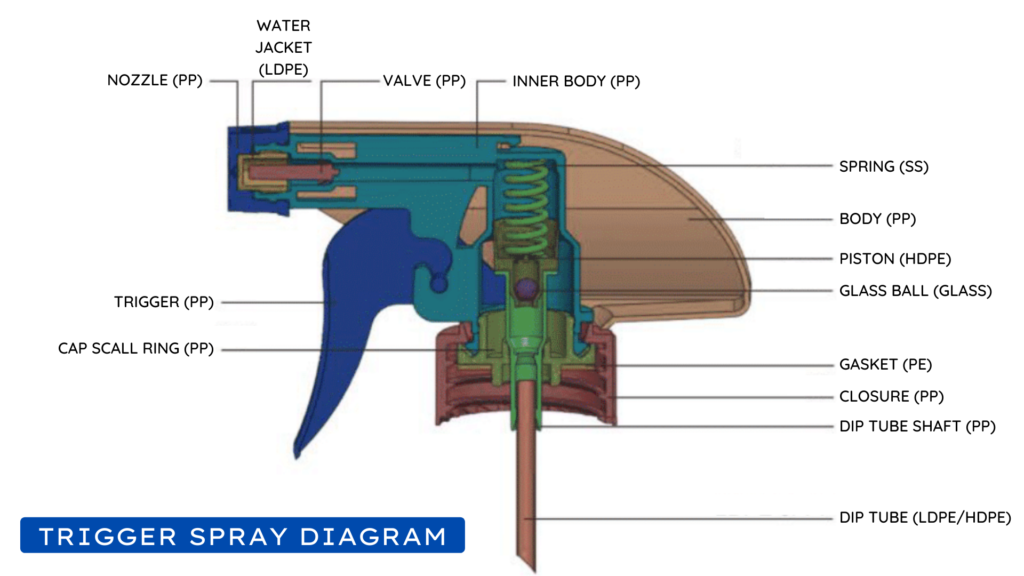 | | |
| --- | --- |
| PP | Polypropylene |
| PE | Polyethylene |
| LDPE | Low-Density Polyethylene |
| HDPE | High-Density Polyethylene |
| SS | Stainless Steel |
HOW DOES A TRIGGER SPRAY WORK?
Spray triggers are really simple to design and rely on a few elements to reach their goal of delivering liquid as a spray through the bottle. A small pump is activated once the trigger lever is pulled using a few fingers. Using the pump, fluid is pulled from the bottle's reservoir through a plastic tube. Through a narrow barrel, the liquid is forced to a spray valve, out of a small hole.
Once the trigger is pulled, the shroud contains a small spring that compresses the fluid. During the firing of the trigger, the piston pushes the spring into compression and when it is released, it is pushed back out of the gasket. As the piston travels back and forth, it moves the cylinder out once again, contributing to the entire pump cycle.
The cylinder shrinks as a result of this extraction motion, which forces the fluid out in a one-way flow. As soon as the trigger is released, the motion allows the process to continue without any issue. A variation of designs varies from pump to pump and delivery system to delivery system.
WANT TO BUY A TRIGGER SPRAYER FOR YOUR PRODUCT?
If you are looking for a trigger sprayer to apply products that need precision and gentle sprayings such as sanitisers, massage oils, hair sprays, air fresheners, frying oil, toilet cleaners, bathroom sink and bath cleaners, our trigger sprayers are a great choice. We offer both standard trigger sprayers and mini trigger sprayers for applications that require greater precision.
BRINLA is a supplier of high-quality lotion pumps, foam pumps, treatment pumps, trigger sprayers, mist sprayers, caps and closure for plastic and glass bottles. Our company has earned a credible reputation in the market for dealing in a premium range of products that are used in cosmetics, household, industrial, pharmaceutical and automotive industries.
We're confident we can find the right solution for you and if what you need doesn't exist, our teams are here to help you find the product, import it and make it available to you.
Click here to see the full range of trigger sprayers we offer. 
Read more