HOW DOES A LOTION PUMP WORK?
Do you know what is one of the most popular dispensing modules in the personal care and beauty industry? It comes in all shapes and sizes. Millions of people use it every day everywhere.
Let me give you a hint!
It magically transfers the liquid from the bottle to the user's hand. It sits on top of a bottle that contains the liquid.
It's a Lotion Pump!
A lotion pump is ideal for products such as creams, tonics, hair care, liquid soaps, and, of course, lotions that require superior viscosity and priming. In addition to hair care, personal care, pet care, and automotive industries, lotion pumps are also used in-home care. Pumps of this type are hand-operated mechanical devices that disperse liquids or gels through plastic pipes inside the bottles. By pressing the piston up and down, the liquid is dispensed from the bottle through this type of pump, which is mechanical in nature.
Nowadays, dispensing pumps are a common component of liquid dispensing solutions and are used in many products for health and beauty. Dispensing pumps can add elegance to bottles and containers, as well as make products easier to use. In most pumps, a predetermined quantity is delivered with every pumping action, which can be advantageous for many different products.
 Dispensing pumps come in many different types, but their basic function is the same – releasing some of the contents with a little hand or finger pressure. The choice of dispensing pump closures is vast, as there are many different types, sizes, and colours. Liquids are dispersed between 3 and 30 ml with either small or narrow pumps, long or short. Although most dispensing pumps are made of plastic, you can also choose to have them made of polished metals, polished marble, limestone, crystal, or anything else that puts a unique spin on things, such as reusable containers. 
LET US FIRST EXAMINE THE COMPONENTS THAT MAKE UP THE LOTION PUMP SO WE CAN UNDERSTAND HOW IT WORKS.
STILL READING? GREAT. NOW LET'S SEE HOW IT WORKS.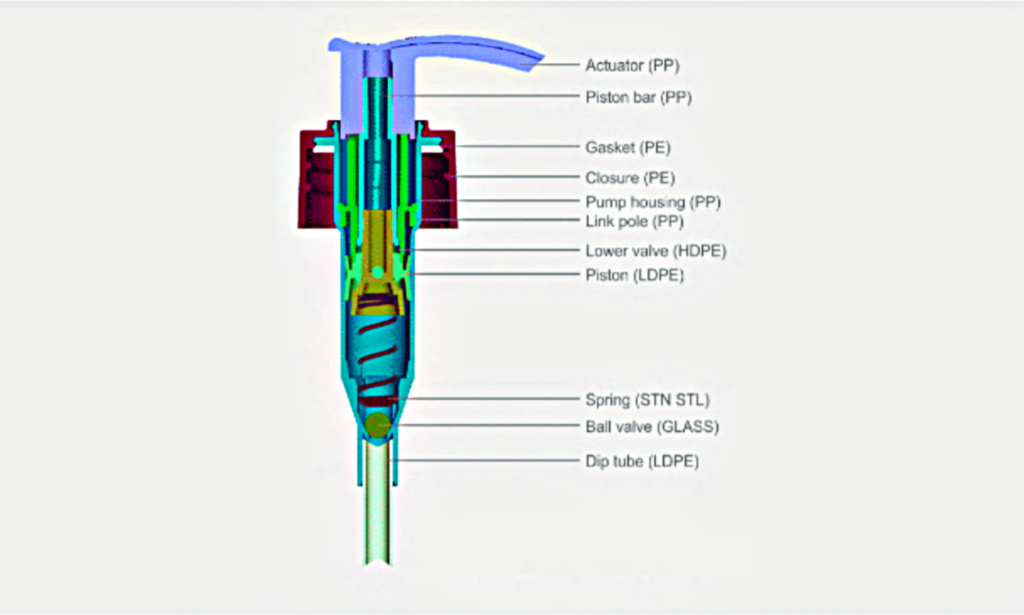 We've all used pump dispensers, and it's rather​ ​counterintuitive that you press down on the top,​ ​and liquid flows up. So, how does it work?
Well,​ ​when you press the top, it pushes the tube which ​​moves the piston down forcing the liquid in​ ​the housing to go either up or down. However, it can't go down because there's a glass ball, a​ ​spring, and a funnel, which act as a one-way valve​ ​​ensuring that liquid flows in only one direction.​
​Thus, as the piston is pressed down, the liquid​ ​goes up through these holes through the center​ ​of the tube and out the top. Once you release the​ ​top, the spring applies a force to the bottom of​ ​the tube, pushing the piston back up and pulling​ ​liquid back into the housing.
Because of the​ ​design of the tube and the piston, when the piston ​moves up, these holes in the tube get blocked​ ​by the interior walls of the piston, and thus​ ​the liquid that refills the space can only come​ ​up from the bottle via the dip tube. The volume​ ​in the housing is now replenished, and ready to​ ​be pumped out again.
WANT TO BUY A LOTION PUMP FOR YOUR PRODUCT?
BRINLA is a supplier of high-quality lotion pumps, foam pumps, treatment pumps, trigger sprayers, mist sprayers, caps and closure for plastic and glass bottles. 
Our company has earned a credible reputation in the market for dealing in a premium range of products that are used in cosmetics, household, industrial, pharmaceutical and automotive industries.
We are dedicated to supplying quality packaging products to the markets necessary to keep consumers healthy and safe.
 Click here to see the full range of lotion pump we offer.