If you are reading this blog that means that you already know what the trigger sprayers are and what are the uses of it. If you don't know then you can read our Trigger Spray: The Ultimate Guide blog post to get you started.
A trigger sprayer is ideal for dispensing many different kinds of products, making it useful in many industries including house cleaning, health, beauty, janitorial, gardening, etc. There are many factors to consider when choosing a sprayer so that you can dispense the product correctly. In order to find the right trigger sprayer for your needs, it is important to make a careful assessment. Here you'll read about the things you should consider when choosing a trigger sprayer.
BOTTLE NECKS AND SCREW COLLAR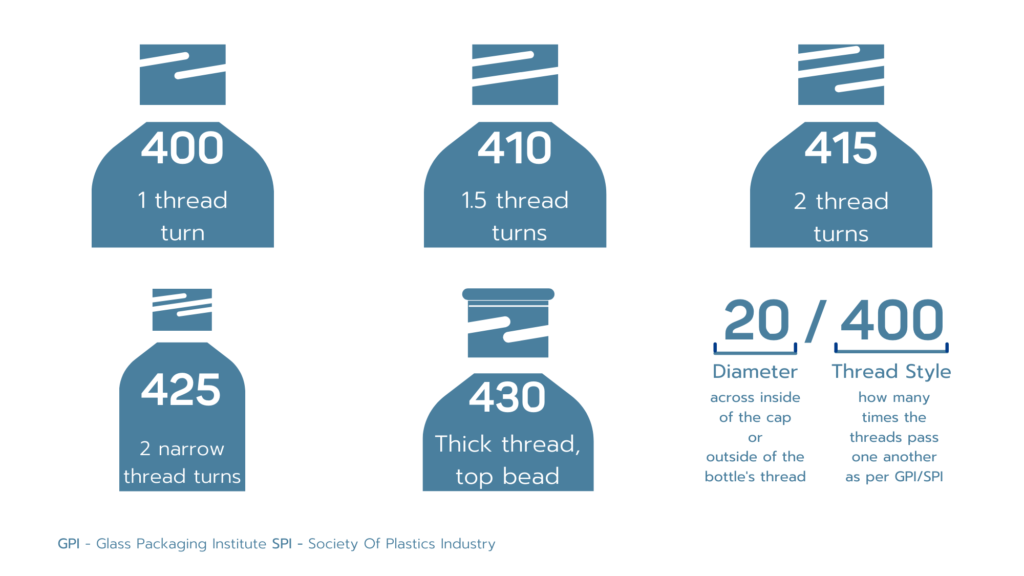 It is important to make sure the container and sprayer have the same neck finish; for instance, 28-400 containers should be paired with trigger sprayers of the same neck finish. A neck finish has a first number (28) that indicates the diameter in millimetres across inside of the cap or outside of the bottle's thread. The second number (400) indicates the thread type. Depending on the thread style, each turn represents a thread turn; for example, 400 represents 1 thread turn. Your closure needs to match the neck finish on the container or else you will have leaks or spills. Typically, trigger sprayers have a neck diameter of 28mm; however, manufacturers can manufacture sprayers up to 38mm and even offer custom sizes. You will find the neck finish of each of our bottles and sprayers in the title, as it is among the most important aspects of choosing the right sprayer for your application.
DIP TUBE LENGTH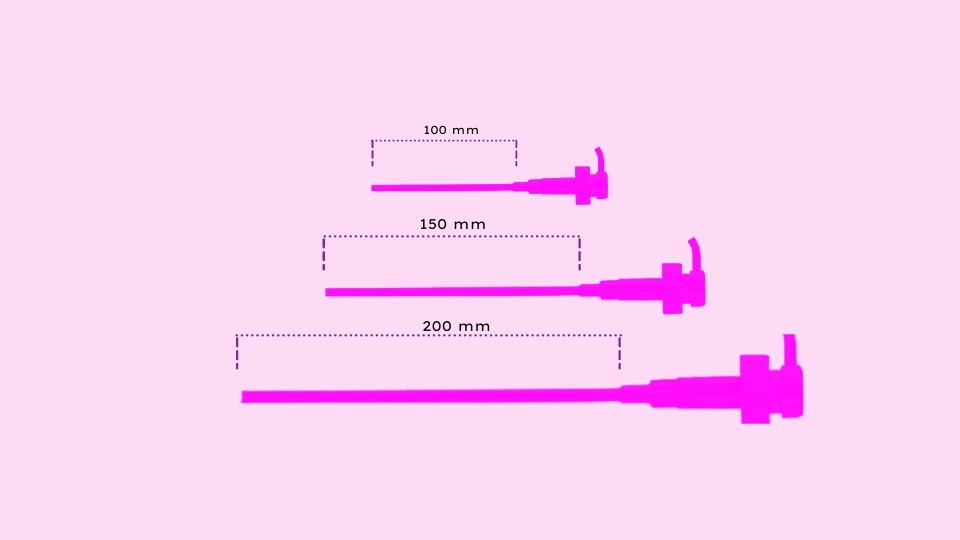 To ensure proper product dispensing and closure, the dip tube length of your sprayer is critical. A long tube will bend too far in the bottle, but a short tube won't reach the bottom of the bottle. Dip tubes are measured from their notch ends to the gasket inside the cap. Dip tubes come in different lengths, including the length from the bottom of the cap to the end, which is the usable length.
The diameter of the tube and the material of the tube, along with the nature of the product being dispensed, should be considered when calculating the length of a dip tube. To maximize product dispensing, thin dip tubes, which are typically found in sprayers, should be bent slightly towards the side of your container. A sprayer should have a height of about one inch higher than the bottle. In this manner, bending will be possible inside the container without limiting the dispensing process. Pumps have rigid dip tubes that sit directly in the product, with only a small gap between the tube and the container bottom, when dispensing thicker or viscous products like lotion or condiments. If the tube sits too high, it will not be able to pump product at the bottom of the container, nor should it touch the bottom of the container. Typically, the dip tubes in dispensers should not hover above the bottom of the container because they are not designed to dispensing thicker products.
Cutting the dip tube ensures the tube does not sit flush against the bottom of the container, which would cause blockage and prevent the pump from working. It is sometimes difficult to get dip tubes to sit flush with containers since their ends are cut at an angle. Although sprayer dip tubes should be longer than the container, the notched end of the dip tube should not be flush with the container. This is avoided with an angular or V-shaped cut. You should also look for a container that has a "push up" at the bottom, which means that the bottom is raised. In the event of a push-up, subtract about 3/32" from the container length you measured previously. By performing this step, the dip tube is ensured to have proper flow.
SPRAY PATTERN
An essential factor to determine the needed spray pattern for trigger sprayers is the liquid application or product of the clients. Trigger spray bottles are convenient and easy to use for dispensing liquids by squirting, misting, or spraying. The sprays sometimes come with an adjustable stream or even an atomizer so that they can disperse the contents in an atomized manner. In general, trigger sprays work through the use of siphons that draw liquid upwards and dispense it through the nozzle.
Spray patterns also affect the amount of liquid dispensed from the trigger sprayer. The spray patterns also have an impact on the amount of liquid that is dispensed from the trigger sprayer. Sprayers are chosen for their dosage, which refers to the amount of product that is dispensed with each spray. Typically, the dosage ranges between 0.22 ml and 1.5 ml. When dispensing products requiring a bigger spread (the amount of product covering the surface area), higher dosages are recommended. Besides the trigger sprayer pattern, the viscosity also impacts the sprayer's range of applicability. Viscosity is measured by the spray's resistance. When placed under shear or tensile pressure, it should be able to resist gradual deformation. In liquids, viscosity relates to the thickness of the liquid. Pumps capable of handling high viscosity (HV) are best suited for products with thicker liquid content.
Spray – Traditionally, spray patterns dispense products in a cone-shaped pattern from the nozzle.
Stream – The stream spray directs the product from a point to a narrow area, dispensing few droplets of product. For products requiring high concentrations in a small space, this spray pattern is ideal.
Mist – A mist spray pattern typically contains many small droplets and is ideal for small dosages of products. 
DESIGN – COLOUR AND STYLE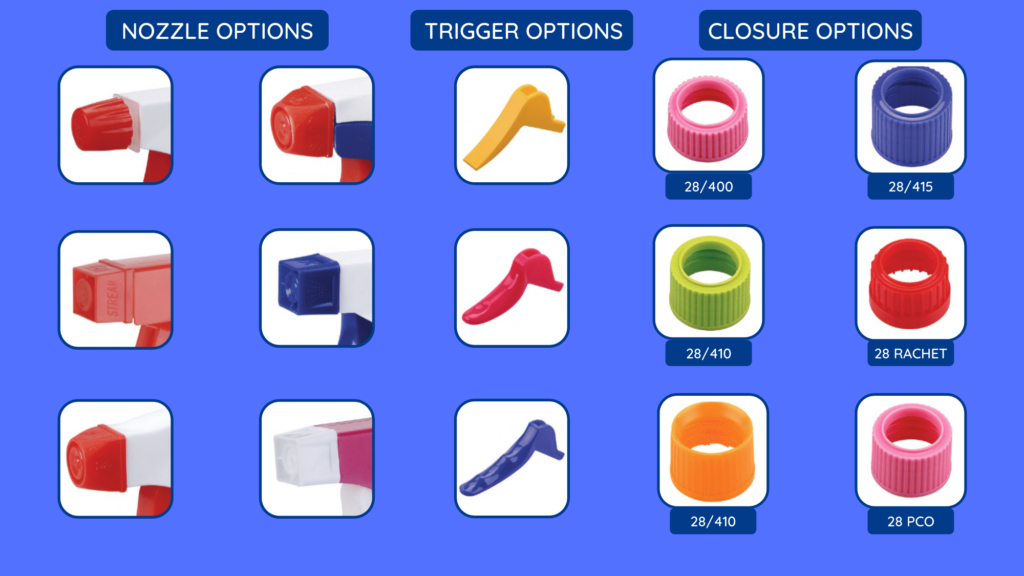 A wide range of trigger sprayer pumps is available in several styles, colours, and designs. A classical, modern, technological, or perhaps futuristic product might fit your product line. A trigger mechanism is enclosed within a shroud made of plastic. A lot of amazing designs are available. As well as the trigger pump, there is a smaller version called the mini trigger pump. A range of liquid product solutions can also be implemented with mini trigger pumps.
With trigger sprayers, clients have the option of customizing their packaging solutions. A client's choice of design will be determined by his or her motivation and preferences. Trigger sprayers are therefore available in various types, styles, and colours.
ADDITIONAL CONSIDERATIONS
Children should not be exposed to some liquids due to their toxic nature. A wrong spray can cause them to breathe chemicals in, while some liquids may burn their skin. When selecting a trigger pump, take child safety into consideration. 
You should consider a foaming option if the chemicals are toxic.
Most trigger sprayers have a twist lock on the nozzle end. Especially for young children, this is a fantastic solution.
Snap-click screw caps come with some trigger sprays. It is difficult to remove a design like this.
Alternatively, trigger sprayers can also come with a sliding left-to-right on/off clip.
 If you are looking for a trigger sprayer to apply products that need precision and gentle sprayings such as sanitisers, massage oils, hair sprays, air fresheners, frying oil, toilet cleaners, bathroom sink and bath cleaners, our trigger sprayers are a great choice. We offer both standard trigger sprayers and mini trigger sprayers for applications that require greater precision.
WANT TO BUY A TRIGGER SPRAYER FOR YOUR PRODUCT?
If you are looking for a trigger sprayer to apply products that need precision and gentle sprayings such as sanitisers, massage oils, hair sprays, air fresheners, frying oil, toilet cleaners, bathroom sink and bath cleaners, our trigger sprayers are a great choice. We offer both standard trigger sprayers and mini trigger sprayers for applications that require greater precision.
BRINLA is a supplier of high-quality lotion pumps, foam pumps, treatment pumps, trigger sprayers, mist sprayers, caps and closure for plastic and glass bottles. Our company has earned a credible reputation in the market for dealing in a premium range of products that are used in cosmetics, household, industrial, pharmaceutical and automotive industries.
We're confident we can find the right solution for you and if what you need doesn't exist, our teams are here to help you find the product, import it and make it available to you.
Click here to see the full range of trigger sprayers we offer. 
Read more